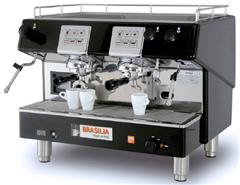 Are you looking for a new BRASILIA espresso machine.
These are high quality machines that stand the test of time. Give us a call at 631-383-4035 or 631-675-1983 to discuss your needs. These machines are the the Juan Valdez Cafe's in New York City. They receive very heavy usage and keep on going. We do their regular maintenance such as screens, gaskets and other seals to keep them in top shape.
Do you need screens and gaskets or other parts for your espresso machine. We have most of it IN STOCK and we accept

. Call us at 631-383-4035 or 631-675-1983.
NEW SPECIAL FOR DIY REPAIR ON YOUR HOME ESPRESSO MACHINE!
Specials
ULKA Model EA type EAX5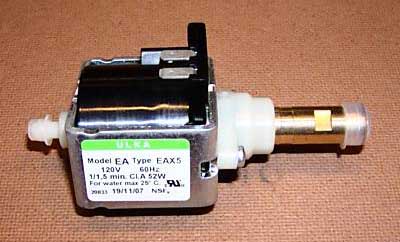 120 Volt, 60 Hz, 52 Watts
This is an upgraded pump with BRASS internal parts. If your plastic 41 Watt EP pump (plastic) has broken, this is the one you want. It also REPLACES THE EX5. This pump is used in all Home models of Saeco, Spidem, Jura, Capresso, Impressa, Gaggia, Grimac, LaPavoni, Silvia, Lucia, Briccoletta, Giotto, Oscar etc. It also replaces many EATON pumps.
See the Cappuccino Master in action. Make 1 or 100 cappuccino's or Latte's fast with no waste and easy cleaning.
Are you looking for

equipment?
Get a BUNN VP17-3 pour over starting at just $270
We have joined the SCAA. It is part of our commitment to delivering the best of service for all of our customers large and small. If you are a roaster, coffee supply, restaurant or office in our coverage area who needs help choosing the right equipment or having it repaired, you have come to the right place.
Is your espresso machine giving you a head ache?
Check out LIME AND SCALE.
Click here to Search our site.